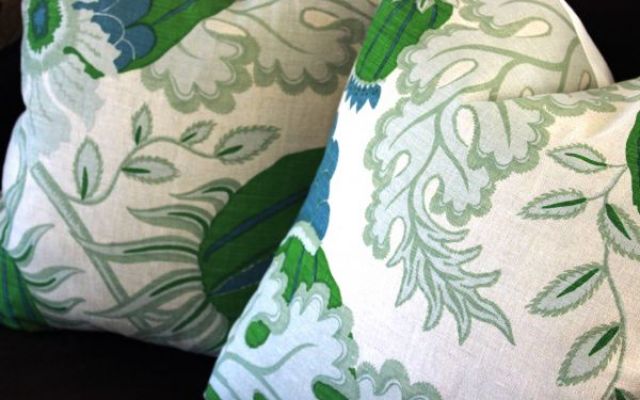 The day has arrived. I have saved and waited for my new Christopher Farr Cloth "Carnival" print to arrive for what feels a painful eternity. I have been looking at plain white naked pillows while searching for the perfect print for about a year. I needed some "wow" factor; a pattern that offered sophistication while accompanying our whimsical dotted storage ottomans that surprisingly my husband had grown attached to. So, I had some things to work around, including the price tag of this designer fabric. Gulp. However, every time I considered a different fabric, I just looked longingly at the sample-staring at me. It was perfect and solved all of the problems in this room. The colors, the pattern was beautiful and it was linen (I loooove linen). I tried to talk myself out of it, I tried, I tried, but I gave myself permission to just succumb to the inevitable. I let myself splurge---just a little bit, just the fronts of the pillows.
Since I only "splurged" on the pillow faces, I went with a heavy weight basket weave linen on the backside. I plan to reupholster my "granny" sofa in an ivory outdoor fabric or washable linen so it will blend in. Right now there's a vine-like chenille pattern on the sofa, which works OK color-wise, and some people even like it, but I can't stand it. I think it looks dated old world italian decor to me. Anyway...in due time.
Thanks to my friend and super seamstress Heather Blank (of RUBY CRAB ~ Handcrafted Happiness) for stitching up these little dreams for me. She is a fantastic seamstress-check out her page of fun creations! If you need some custom pillows made, please send me an email, I can order the fabric for you and Heather can sew them.
I have made a lot changes to this room since my last posting of it way back, basically bringing it down to the bare minimum, only keeping things I absolutely loved. I had avoided this room for a while because it needed some serious EDITING and having to incorporate the ottoman's pattern made my head spin. With young kids, it is all about hiding and stashing the toys. We don't have basements here in Oregon, so without a bonus room, it's challenging, but not impossible.
We had built temporary shelves that quickly grew to a gallery of photos and collections because we didn't have any furniture pieces to store it in or display on (that's my way of saying I had too much stuff). Hubby and I decided it was time to remove the gallery wall; it was weighing down the corner. I only kept what was like in color and texture to give the room some peace. I honestly think there is room to do more. I recommend editing a room like this, it's liberating, similar to cutting off your hair, but reversible.
I miss seeing the photos of our family, so we've decided to create a gallery up the staircase. I finally have enough frames collected to begin that project. I am deciding whether or not to mix gallery style frames with other colors and textures (wood, gilt, etc). That's a totally different blog entry! If you follow me on Pinterest, I have a section dedicated to wall gallery frames-you will see what I mean there.
Next, I need art on the walls each side of the fireplace. I am looking for something very light and clean, large scale and colorful, OR, tidy collections of paintings and artifacts. I am still playing with those ideas. What do you see? I also need drapes and wood shades to achieve the layered look. It's on the list.
Other changes...the upstairs "boathouse" bathroom is a l m o s t finished. I am waiting on some things to arrive before I post photos, but we are enjoying it so much. Hopefully I will get those out this week and hope the sun gives me some decent light.
Thanks for reading, I hope you like how our room is coming along.
Take good care.
Kari
**Click on the photo below to view the slide show gallery**