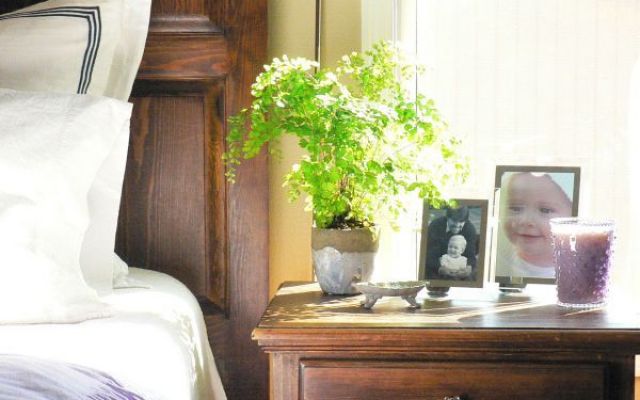 You would think decorators could decorate their own home *snap* just like that, but it's not true. Even though I am constantly reviewing options, have more experience than the average person and have access to the trade items, it's still our house and it's personal, just like your house. We're not all millionaires either (unless you are Mary McDonald, Victoria Hagan, or Kelly Wearstler, Winsdor Smith...the A list goes on).
I can make decisions for others in no time flat. I think it's because I am not emotionally tied to a client's room as much as the individual living in it and I can focus on the prize. For our bedroom I wanted a custom "collected" look, so I designed it...gradually.
Where to start.
Furniture and placement. There is a reason for everything in this room, and where it lives. The bed is on this wall because I like to see trees from my bed. If you must know, when I lay on my side, I get to see tree tops. It's very relaxing to me. The mirrors over the nightstands: this side of the room has no windows, and looks very flat and somewhat dark. Mirrors provide the illusion of pushing back the wall and reflecting the light (check, and check), hence creating "windows".
I designed bed and nightstands and had them made when I lived in LA about 10 years ago. Yes, 10 y e a r s ago. The nightstands didn't have mirrors inlaid in the doors originally. I decided to add them and change the hardware out just this year to hide the hundreds of magazines stowed inside of them. A good change in direction, I think, and it suited to my current style and function. Then came some detail that I like to call door jewelry.(literally added yesterday). Hardware can change an entire room.
I needed a chair that had character so I could read or work on my laptop at night and a little side table to set a glass down, and didn't break the bank. I found a really dated (and unattractive) chair that just needed a facelift as seen here. I bought the chair for practically nothing and paid another couple hundred for fabric and reupholstering. I saw this exact chair in a different fabric on the internet, but the advertised price was $2,000. If you think out of the box, give a little bit of sweat equity, you can save a lot of money, and yours will be unique.
Lighting.
The topic of lighting is a whole additional layer of design I could write pages on, but I won't for today. In short, lighting not only lights up specific task areas, but an added plus provides mood,expansiveness and dimension. I love dimmers for this reason. In my room, I chose swing arms installed just on each side of the bed. I like things on my nightstands, and I prefer to have them free and clear of a lamp I am sure to knock over.
Color scheme.
I looked for a few years to find bedding that caught my eye and kept it caught. Cotton only please, however it started with just a little pillow found on Etsy. This pillow fabric is from Bangkok and was made and purchased from Sarah Robinson's Be Still shop. I loved it and thought-how cool, Bangkok! I still love it. I loved the colors, the print, everything: hence my inspiration point. The duvet was found next, a major score. I loved it too and it went perfectly with the duvet cover.
The fluffy stuff.
I like pillows you can dive into but not too many. If it were up to my husband-we would have one "pancake flat" pillow on each side. I also don't like the bed overly coordinated like it came from a "bed in a bag" package. Duvet cover are very comfortable since they have a down loft and it's easy to make the bed and lends to a layered look with an added throw.
Styling
I am a kid in a candy store when it comes to styling. It takes practice and I am still trying to perfect this area of my design. It's a good thing I love it. Accessories, plants, bottles, vases, art, frames, floral, sculpture, throws, you name it, it can make or break the mood of the room. Think less is more for more unique larger pieces. If you like many things to look at, give the eye a break, place items so that you eye zigs and sags and various heights, and keep it similar in texture and color for a more quiet look.
Design tips.
The biggest mistake I commonly see: people want to immediately pick a paint color and get s o m e t h i n g on the walls. They want it done now (and so do I), but you are leaving yourself open for disappointment if you do this too blindly. Yes, it is the most economical way to make design impact, but practice patience, and get it right after you have the palette confirmed. Pick the inspiration piece and or the focal point, determine your color scheme and work backwards. It could be a rug, a pillow, a painting, a blanket...anything that give your design some momentum, but anticipate your next move. Compare all the samples nest to one another, with the inspiration pieces and brush the sample colors on the wall and review the next few days in various light (all times of the day). It's ok to use photographs as a general idea of color palette, however, monitors differ and the color you see in the photograph WILL look different of your wall. Choose the right color and shade for your room.
Furniture. Where-o-where.
Furniture placement always comes first (function together with form, I prefer to say). Keep in mind we decorate to live in our spaces, not just to stare at them (although I do find myself staring off from time to time but I think that's just my happy place). Place furniture based on the room's identity, meaning what activity will occur on in the room and which furniture will you need to do each? What will you want to see or not see? Is it clear of the door to door traffic pattern? Map it out.
Good design makes our spaces feel natural to us, it, not just how it looks, but how it serves us.
I hope my design cliff notes provided you with some insight as to where I started with our Master Bedroom space.
If you want a beautiful home but are overwhelmed at the thought, consider hiring a designer (me!) to at least come up with a plan. I don't have to live in your city-I can have a few discussions with you and create a Virtual Design Board with links to actual resources and you can install it on your own!